As India's first sports-inspired community living experience, Ekana Antalya provides luxurious comfort for the whole family in a PPP project developed through collaboration with the State Government of Uttar Pradesh. Ekana Sportz city Ekana Sportz city. Enjoy a unique lifestyle experience filled with exciting activities and luxurious amenities – come home to Ekana Sportz City!
Ekana Sportz city
Ekana Antalya 4 BHK Apartments in Lucknow : Unit Size- Area - 3534 SQFT - 7176 SQFT.
Ekana Mall Shops in Lucknow : Unit Size- 200 SQFT - 1500 SQFT.
Ekana Ontario Penthouse - Super Area - 4599.28SQFT | Covered Area - 3537.91SQFT | Carpet Area - 2727.38 SQFT
Ekana Ontario Luxurious Sky Villa - Super Area - 6301.14 SQFT | Covered Area - 4847.03 SQFT | Carpet Area - 3968.58 SQFT
Ekana Ontario Luxurious 4 BHK + Servant Apartments - Super Area - 3336.54 SQFT | Covered Area - 2566.57 SQFT | Carpet Area - 2069.59 SQFT
Ekana Ontario Luxurious 3 BHK + Servant Apartments - Super Area - 2484.21 SQFT | Covered Area - 1910.93 SQFT | Carpet Area - 1444.96 SQFT
Ekana Sportz city lucknow is the perfect place for you to create unforgettable experiences with your closest friends. Our curated and carefully designed Club House and its enclosures offer sophistication, comfort, and privacy while allowing you to maintain your distinct identity. With a range of amenities on offer, Township promises a unique social experience unlike any other.
Ekana Projects in Lucknow
At Ekana Sportz city lucknow, Here you can experience true serenity as your chakras are reawakened and your soul reconnected. Enjoy peaceful moments amongst our lush green surroundings - the perfect backdrop to spark real mindfulness. Our card room, billiards & snooker table is the ideal setting for friends to come together and challenge themselves with precision games. Spend quality time with loved ones at Township to create unforgettable memories that last a lifetime!
Residential 4 bhk flats in gomti nagar extension
Commercial shops in gomti nagar extension
Office space in gomti nagar extension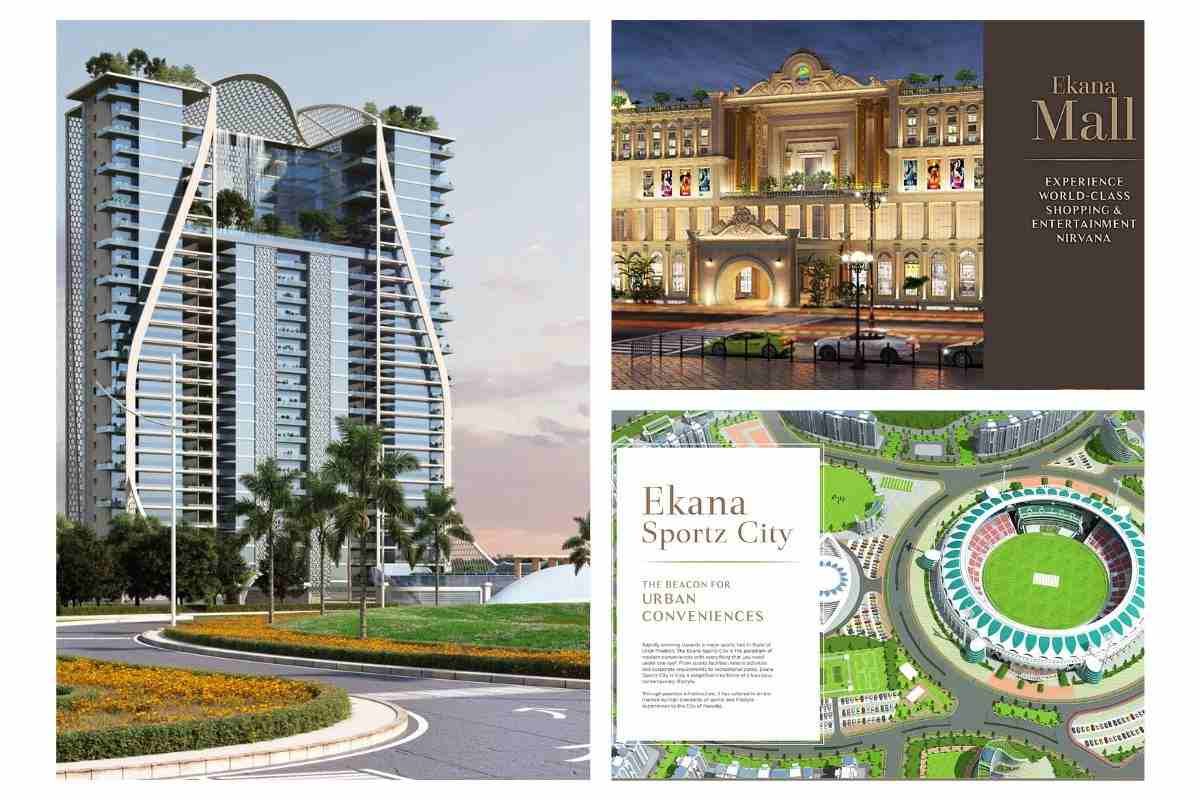 At Township, we will provide a unique shopping experience with a combination of departmental store and party hall. Our stores will well-stocked with the daily groceries you need, while our majestic Party Hall makes it easy to host get-togethers with family and friends. Plus, our multi-level security system provides 24/7 surveillance for your safety and peace of mind. Come and make lasting memories at Township! For more details kindly connect +91-7526-085-233 .